How to make people fall in love with insects? An interview with Dave Goulson
Insects are fascinating and important creatures. But how do you make people fall in love with bugs?
Professor Dave Goulson, a Professor of biology at the University of Sussex, UK, and an author/campaigner, tries to spread his love for insects via his books.
If you get as excited as me seeing some bees buzzing about in your garden, you'll love the books written by Dave Goulson. I'm a big fan of "Bee Quest", a book written by Dave back in 2017. Reading this book encouraged me to learn more about bees and the struggles they are facing.
Other books written by Prof. Goulson include the Sunday Times bestsellers "The Garden Jungle", "A Sting in the Tale" and his most recently published book "Silent Earth: Averting the Insect Apocalypse". Unfortunately, I have not read these books yet, but I cannot wait to get my hands on a copy of them.
Aside from writing books and being a professor of Biology at the University of Sussex, Dave Goulson is fighting for insects in many other ways. He is a Fellow of the Royal Entomological Society, a trustee of Pesticide Action Network, and an Ambassador for the UK Wildlife Trusts.
I wanted to learn more about how Dave ended up in the field of bumblebee ecology and conservation and was curious about his career path. So, I asked him a few questions…
What are the main tasks of your job?
"I do research on bumblebees and other wild pollinators, run a research group, do some teaching, and do a lot outreach, including writing popular science books about insects and giving talks. The aim of my research is to better understand the causes of insect decline and how we can reverse them."
What is the main thing you want to achieve through your career?
"My goal is to persuade everyone to love and respect all insects. Ultimately, I would like to ensure healthy insect populations into the future. Of course, with over a million known species of insect that is a big task, but one can but try…"
Why did you choose this career?
"I've always loved nature, and particularly insects. I have no idea why! My career just seemed like the obvious choice, I never really thought about it."
What did you study in university? Which degree(s) have helped you to land this particular job?
"I did a degree in biology, then a PhD on butterfly ecology. I then moved on to research posts, never really leaving one university or another."
What is your personal experience of landing a job in wildlife conservation? Any tips and tricks?
"I guess my job isn't really in conservation, although I see myself as a conservationist. I guess academia is a bit of a backdoor route in ☺."

What is the highlight of your career so far?
"My biggest achievement so far is starting the Bumblebee Conservation Trust in 2006 – it now has over 40 staff, 12,000 members, and is busy creating habitat for bumblebees across the UK."
What do you love about your job in conservation?
"I feel like I am making a small positive difference for our environment. There are meadows full of flowers and wildlife that would not exist if I had not helped create them. That makes me happy."
What do you dislike about your job?
"The immense size of the challenge, and the knowledge that we are losing the war. But, as Greta Thunberg wisely said, "Giving up is not an option"."
How can someone support your mission and research?
"Everyone can help save the insects! If you have a garden, roof terrace or window box, make it insect-friendly. My YouTube videos and books will give you lots of ideas as to how you can do this."
"I have a dream of our cities being green, filled with flowers, organic veggie patches, and teeming with insects and wildlife of all sorts. If anyone should wish to support my research, here is a link."
This interview was first published on The Wandering Biologist.
Author Profile | Fedra Herman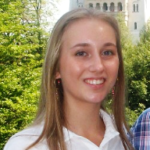 Originally from Belgium, Fedra Herman is currently studying a Master of Conservation Biology at The University of Queensland in Brisbane. She is the creator of The Wandering Biologist blog where she inspires others to live a more sustainable life and shares her adventures as an aspiring wildlife conservationist.
Careers Advice, Interviews, Senior Level, Communicator, Educator, Scientist