Keeping Wildlife Wild – An Interview with Dr Nikki Tagg, Head of Conservation at Born Free UK
Speaking with Dr Nikki Tagg, Head of Conservation at Born Free, gives insight into what it's like to work in a large conservation organization striving to protect wildlife around the world. Born Free is a conservation charity with its head office UK based, additional offices in Kenya, Ethiopia and South Africa; and conservation projects worldwide. Born Free is committed to keeping animals in the wild, working to ensure a future where wildlife and their habitats are protected while coexisting with people.
We discuss Dr Tagg's career journey, job responsibilities, and briefly look into one of Born Free's conservation projects: the Satpuda Landscape Tiger Partnership (SLTP) in India.
Read on to understand what it's like to lead conservation projects in various places worldwide, and how more people can be part of the solution.
Tell us about your position at Born Free
I started out as Conservation Programs Manager and am now heading the team in the UK. We manage two lion conservation programmes in Kenya and the Satpuda Landscape Tiger Partnership in India. We're also developing two new conservation programs in Kenya – one for giraffes, one for elephants; as well as a great ape conservation programme in Cameroon. This is our flagship work, where we invest the majority of our money and time, but we also support third party projects with both financial and technical aid.
As well, we work with our other teams in regard to policies, fundraising, marketing, and communications; so it's not just managing the conservation projects but also looking at the bigger picture.
Discover Born Free's conservation projects in various countries around the world.
How did you get started in conservation and what were some of the key steps you took to get where you are now?
I came into it from an academic angle as a conservation scientist before becoming more of a practitioner with Born Free. I'd always had an interest in conservation and wildlife science, and had in mind that I would go to Africa as soon as I could.
I did a lot of volunteering when I graduated – about 4 years for great ape conservation programs in Africa. My PHD was in evolutionary ecology, an unrelated topic to conservation, which is why I began volunteering –  to get my foot in the door of the conservation world. At the point of having just graduated, I didn't have a network yet so I had to seek what opportunities were out there. Volunteering provided me amazing opportunities.
After three years, I received a local stipend which essentially just covered my costs while I worked on a great ape project in Gabon for twenty months. After this, I got my first paid position as Scientific Supervisor with the Centre for Research and Conservation (CRC) of the Antwerp Zoo Society for their great ape conservation programme in Cameroon.
I lived four years in Cameroon, where my role grew from Scientific Supervisor to Project Director. Afterwards, I moved to Belgium to become a Senior Researcher with the CRC, still focusing on great ape conservation science in Cameroon. I then moved to Born Free in the UK, but am still remotely managing the Cameroon project.
I saw volunteering as the necessary next step after graduating. It's not easy to get direct access to conservation jobs without experience. I'm quite aware that this can be a problem – [if] you have to pay for the privilege to volunteer which not everyone is in a position to do.
[Conservation Careers note: if you're looking for paid or free volunteering opportunities, check out our ultimate guide to the Top Conservation Internships | PAID or FREE Opportunities and webinar Conservation Internships & Volunteering that Won't Break the Bank.]
What is difficult about your job?
One of the hardest things is the remoteness – although it can be good that I don't have to be in country all the time and we have great people in the field; sometimes the remote engagement with the teams on the ground is not ideal. If they need something from us such as training or we need information from them, there are sometimes delays or obstacles to timely exchange. It can be difficult for us to know the realities of the field and vice versa.
What do you enjoy about your job?
It's a little bit of everything – I'm not just head of conservation, but managing the bigger picture. There's something different every day making it a lot more fun. It can range from developing the technical work plan of a conservation program in Kenya for example, to writing blog posts aimed at teaching kids about tigers in India; so it varies quite a bit.
When I was doing field work, my role was focused on the research program, not as much on community level conservation efforts. The research is important, but is only one aspect of it – now at Born Free, I'm involved in the various areas.
Further Insight: The Satpuda Landscape Tiger Partnership (SLTP), India
Can you tell us more about the SLTP programme?
The program is a network of eight Indian NGOs with Born Free and WildCRU as partners. Born Free mainly funds the work on the ground, but also has a role in monitoring and evaluation, and the technical guidance for the program. The Indian NGOs then implement the work on the ground.

This program is quite unique in the way that it's structured because it's a network rather than just one team – the value of this partnership is it allows us to cover a vast area – 20 000km2 of tiger habitat which is arguably one of the last tracts of habitat left for tigers in India.
The partners all have a slightly different approach to conservation, and each is concentrated in a different area, allowing for a more holistic approach. These different areas include mitigating/reducing wildlife-people conflict, community engagement, conservation education and awareness, habitat restoration, and advocating/campaigning.
Where are your efforts currently focused for the SLTP programme?
Monitoring and evaluation is very important but can also be quite difficult. The fact that we have several partners within the network but essentially on their own projects makes it difficult to do landscape wide monitoring because no one partner can take that on. That is something we are looking to improve.
We want to know – are people acting differently, are their attitudes changing, are people becoming more tolerant to tigers, etc? The National Tiger Conservation Authority in India does a survey every four years which has shown tiger numbers increasing – so we've contributed to that success but determining the exact extent is complicated to tease out.
In terms of actually working on the ground in India, the partners would have very different challenges that they face on a daily basis – red tape to get through, under-resourced; and as is the case anywhere, there are priorities in government, and it isn't often preserving wildlife and natural landscapes. We can support the work of the teams on the ground, but only to a certain extent – we also need to be bringing in money. To grow the program, our biggest challenge is funding.
How can those who are not professional conservationists contribute to conservation?
I think it's increasingly evident that conservation is a multidisciplinary field. We need everyone –  ecologists, biologists, social scientists, economics, engineers, fundraisers, writers – if you have a skill it likely can be applied to conservation and environmental protection. Just within Born Free we need many of these various roles to operate the bigger picture. 
How can people help Born Free's conservation efforts?
As a charity, we do rely on funding and donations, so keeping up with our communications to see what interests you to support is great. We have an adoption program to aid the conservation efforts of many different species, there are always petitions to sign, and we regularly run campaigns.
Public support and pressure plays a huge part in determining a positive outcome, it's what drives big political decisions and businesses to change their ways. The more we can spread the word and get people's support on issues, the better. It's important that we change the relationship the world has with nature as this will then have knock down effects for positive change.
Interested in supporting Born Free's work?
Born Free is currently running a UK focused campaign, Dangerous Wild Animals. They have launched a new petition, in collaboration with the RSPCA, calling on the Government to review and reform laws on the private keeping of Dangerous Wild Animals. See the demands and/or sign the petition.
Explore Born Free's other campaigns or donate to Born Free's conservation efforts.
Author Profile | Stephanie

Medwenitsch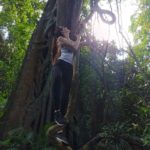 Stephanie is an environmentalist and writer based in London, UK. Growing up in Canada, much of her life has been spent in the great outdoors, cultivating her love for nature. She is particularly interested in concepts of regenerative living and how to incorporate them into everyday living, which she strives to share through her writing.
Featured image credit: Ansie Potgieter on Unsplash
Careers Advice, Interviews, Senior Level, Communicator, Fundraiser, Policy Advocate, Project Manager, Community Conservation, Wildlife