Andrew Russell | Building Chinko National Park from scratch
It's mid-June and, in Chinko National Park, deep in the heart of the Central African Republic (CAR), the wet season is approaching. The atmosphere is hot and humid. The air black with thick swarms of mosquitoes and tsetse flies, their thirst for blood insatiable. Andrew Russell is just one month into his placement here. He has already had his first bout of malaria. Remote and isolated, the days are long and often involve manual labour in inhospitable conditions. His fiancé and home are many miles away in another country…
He makes no bones about the fact this is his toughest job yet.
The Australian-born conservationist is working for African Parks, a conservation NGO which focuses on the rehabilitation and long-term management of protected areas in partnership with governments and local communities.
The goal is to protect Chinko National Park's eco-system, support the local communities and unlock economic value through tourism.
"It is not an easy life. It is not easy on a relationship. You have to be devoted to this type of work. It can be a lonely place. But when you have a passion you have to do it," Russell told Conservation Careers.
And, for Russell, the park symbolises the determination of humans to make a difference.
The challenges, however, are considerable, as the country is in the middle of political upheaval.
Chinko National Park, which is bordered by townships, has been ravaged by warfare, while unemployment and poverty is rife. Weapons are easily accessible and horrific acts of cruelty are not uncommon.
Meanwhile, pristine rainforests lay silent, devoid of wildlife due to rampant poaching. The park is part of a well-worn cattle route and herders have shot and killed everything in their wake. Additionally, elephants have been decimated as their ivory is used by rebel groups to fund wars.
Grass roots at Chinko National Park
But, there is hope. Chinko is a unique environment where savannah and tropical forest meet. And, while the wildlife has been heavily poached, the eco-system itself is intact.
African Parks – which in 2014 was awarded the mandate to manage Chinko National Park for 50 years –  are confident they can return it to a haven for wildlife.
Russell is part of the team responsible for making it more accessible by putting in roads, airstrips, bridges and river crossings. He also works out the costings of infrastructure and equipment to advise donors.
A typical day will see Russell wake around 04:00 hours. Work could be anything from costing equipment, digging holes to put up shelters, or building prefab houses. A daily brief takes place around 18:00 hours, followed by dinner and then bed.
The remote location presents a huge challenge –it takes nearly 12 weeks to bring in a truck from the capital and, once rainy season is truly underway, you can forget about it altogether.
Then there are the issues of inflation to contend with. A simple bag of cement costs $86 a bag, and is unsurprisingly not an option, here.
"It is just phenomenal costs. So, what we are doing is making our own bricks and getting our own sand and refining it and making our own cement. Or, getting rocks and making it in to foundations, it's an amazing thing we have been doing here, and a great initiative of the park manager, David, " he enthused.
"All these kinds of things are not what people really think about when it comes to the grass roots of conservation," he said.
It may not be glamourous, but for Russell, being at the start of the project and laying the foundations to restore an environment, is immensely rewarding.
"This is ground zero of conservation, here it's all about infrastructure… Without this, we can do very little about bringing back the animals that have been wiped out. It is a very long-term project and will be years down the track before Chinko can actually start taking tourists," Russell said.
Furthermore, for the project to succeed then community backing is essential. The communities of CAR are often living in abject poverty, where poaching is the only way for them to provide an income to support and feed their family.

As westerners, we may disagree with their methods, but for the locals there is often no alternative.
"If I was in their shoes and I had a family and I had no job, no money and I needed to feed my family I would probably poach as well. To stop it, we help with education, medication and employment, we offer that alternative," he added.
African Parks' Chinko National Park project is the biggest employer outside of the capital. Locals are trained to become anti-poachers to protect the land, or in infrastructure to help develop it. Cattle-herders have been given a new route, outside of the park.
Slowly the wildlife is starting to return.
"[Recently] I went for a walk alongside pristine crystal-clear waters, with amazing trees and colobus monkeys swinging through the rainforest branches. Not many people get to do that. To come to such remote places. And you know you have to do something to save it," Russell said.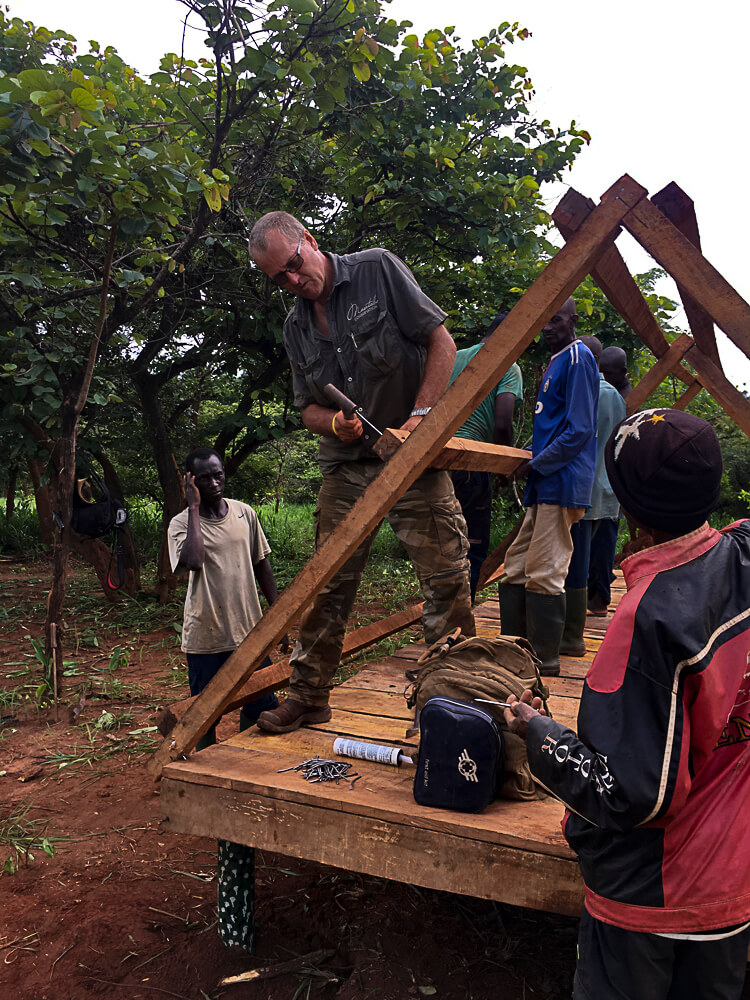 Going the extra mile
Prior to coming to Africa, Russell owned a manufacturing business in Australia. But, conservation was his passion.
So, he re-rolled the dice. He sold his share of the business and house and put that money towards Africa.
Initially he started with a guiding course, before he was offered a position with a game reserve doing park management in South Africa. The reserve CEO Peter Fearnhead is also the CEO of Afrtican Parks, which started his connection with the NGO.
Having registered his interest with African Parks, he wanted to prove that he was willing to go the extra mile to get a foot in the door.
Realising that if he wanted to work in central Africa it would be beneficial to learn French, he spent his spare time learning the language –  ensuring he became a more attractive recruit in the process.
Going the extra mile, he believes, makes you stand out from the crowd.
Having a financial cushion is also advisable. Getting a career in conservation is notoriously difficult and often the best way to get noticed is to volunteer. This means there could be long periods of time where you are not earning financially.
"I haven't continuously worked for two years and have been volunteering most of the time –  that is the only way to get into it. It is a hard industry to get into and you need to be willing to go out and volunteer and get your name out there. You need to show you are willing to go and do the hard yards," he said.
It is also not an industry you enter for financial gains, he added. Rather, it needs to be something you are truly passionate about and something you believe is worth fighting for.
"What I want, is for my daughter and their kids, or my nieces and nephews, to be able to come to Africa and see a rhino, or an elephant, or a pangolin. When I get old, if my grandchild asks if I did anything to help in Africa, I do not want to say no. I want to be able to say: 'Yes, I did my best'. And that's all anyone in conservation can do," he said.
Further reading
For more information on Chinko visit https://www.africanparks.org/the-parks/chinko
Careers Advice, Interviews, Early Years, Volunteer & Internships, Wildlife